danish translation services
The program is designed for children in need of any assistance. Of course, in especially in need of assistance, children from low-income or single parent families. But often in wealthier families, children need psychological help,
tuition, just the attention and warmth.
The program is held with the participation of the Jewish charity center "Gmilus Chesed. Employees' Gmilus Hesed "was a lot of work on data collection for the needy or single-parent families where the children need socio-psychological support and help in adaptation. These data served as the basis for creating "Beitenu. In addition to questioning "Gmilus Chesed" provides transportation for children from remote areas. It is also planned the organization with "Gmilus Chesed" food packages
for families participating in the program.
The complexity and singularity of the program "Beitenu" is differentiated and individual approach to each child, ask for help. This
may be material assistance (clothing, food, school supplies), Tutoring, working with a psychologist, medical care and other things that need for the development of the program.
Of course, do not remain aloof and issues of education, formation of a full creative personality. Guys get acquainted with the tradition of the Jewish people, its culture and history. Teachers are engaged in child language, mathematics, history and geography. In a training package includes the basics of computer literacy.
Picking up the old traditions of ORT, teachers want to give kids skills. Computer technology – this, of course, very modern specialty, but not to mention fitness, no guarantees employment growing army of computer geeks. Moreover, the ability to "work with your hands" today only still in demand, but will not hurt future fathers and mothers.
So boys get skills work education in the bench and joinery and electro-technical workshops, and girls – crafts classes, cooking
arts and so on. However, if desired, and they and others can learn any skills, regardless of the traditional division into "male" or "female". Lessons decor, design, fine arts, music, dance benefit all without exception, as not only teach useful skills, but also develop creativity, increase self-esteem.
In our immediate plans to establish a laboratory design, the school's image, the study good manners, the creation of the Academy of Food "(where kids will learn to delicious cook, eat and learn the rules of kashrut).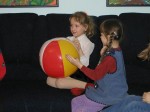 In conversation groups experienced psychologists helping children understand themselves, recognize what they want to achieve in life and to see ways to achieve goals. Provided and leadership courses.
To develop logical thinking, we propose a system of educational games, chess school.
Many children who come into the program "Beitenu", there are real problems with health. Therefore provides a number of recreational activities. All children pass a comprehensive medical examination. Oxygen, the ionization air, physiotherapy, hardening, vitamins, aromatherapy, training on simulators – all this will improve the health and harmonious growth.
Living Area, horseback riding, visiting the dolphin, the zoo – not only interesting, but also develop the inner qualities guys.
We need to teach children compassion and instill in them the skills of care for the weak, the Moreover, many of them are educated and grandparents. Studio "Ajbolit" will give kids a real opportunity to provide first aid assistance (which may well come in handy in the future, "adult" life).
"Beitenu" leaves "behind" family participants in the program: family reading, joint leisure (visiting cinemas, theaters, museums, excursions to nature, evening), the holding of the Days birthday (where refreshments and gifts are preparing their own hands), and much more.
In addition, Beitenu "participates in all activities" Migdal ": family camps, retreats Shabat, playgrounds, Jewish holidays.
Also, depending on the wishes, guys can go all Migdal's Electives.
Proposed and a set of public services. Guys, do not have a home opportunities, can take a shower, change into clean clothes. We also have washing machine, which is not in every family is present.
Receive program participants and kosher food.
Many Migdal's participants (and not only) have responded to the request to bring the kids clothing, which rose from their children. But the interchange of things going on and between by visitors' Beitenu.
We still have many plans and ideas (eg, hotline). And more people or organizations will offer real assistance to the program, the more effective it will develop.