transcription services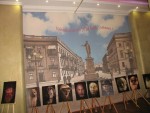 Migdal International Society, Inc. is helping many projects. One of our latest financial help was for the renovation of part of JCC "Migdal"'s building in Odessa, Ukraine.
Building itself is very old, and year by year JCC struggle's to renovate it. This year wasn't an exclusion. Few major rooms were renovated with the help of Migdal International Society, special grant for Migdal's library from Mrs. Fran Canterman (Baltimore, MD) and some other donors.
So, Migdal's library managed to change a lot: it was renovated, new furniture and special librarian equipment was purchased, old bookcases from the former synagogue were also restored. Thus now, one of the oldest Jewish libraries in the FSU looks modern and comfortable.
On the first floor, dance classes were restored, with special mirrors and dance equipment, music system and a lot more purchased. During restoration process in one of these dance classes old wooden floor was found and renovated.
Here are some photos of renovated buidling. We are sure its worth seeing with your own eyes!