italian translation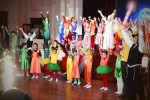 It is with joy and happiness that we tell about the JCC "Migdal"'s 25th anniversary.
25 years – is not just a bit number but also a quarter of a century.  Quarter of a very difficult century in the Jewish history.
And our friends in "Migdal" lived it through with honor and great achievements.  How one can know about achievements and total progress?  Oh, you should just visit its birthday.
Celebration of "Migdal"'s anniversary was grand!  It lasted more then three hours and consisted of 3 parts.  Let us tell you more about it.
First part was a musical.  It was a major, bright performance that included all "Migdal"'s art groups on one stage.  It was a living creature, with musicians, dancers and vocalists, accompanied by "Migdal Or" musicians.  More then 100 people all together.  Its impossible to describe.  We'll post video soon and you'll see it by yourselves.
And then second part of the celebration. Official one.  With greetings and wishes from JCC's friends.  What to tell you… There are many friends who where present in the hall and even more that couldn't come from other cities or countries.  Both Chabad and Litaim chief Rabbis of Odessa, Hillel president, vice-major of Odessa, Limmud Ukraine director, private collectioner, artists, directors of museums, leaders of Jewish communities from Ukraine and Crimea, former "Migdal" members from USA and Israel and many many others.  All wanted to say few warm words about the role of JCC "Migdal" in Jewish Odessa and Ukraine.
And then went the third part.  Jewish Musical Theatre "Migdal Or".  20 professional dancers, musicians and vocalists performed so much loved songs and dances.  It was fantastic to see them once again on stage after almost 5 years.  People couldn't sit on their sits, they went dancing, clapping and singing.
On that date "Migdal" gained many nice presents.  But people that came to the celebration got one even more valuable – wonderful evening full of positive energy.
Mazl Tov, "Migdal"!  Ad 120!