translate website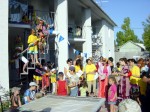 You want to discover your roots? Interested to feel connection with your ancestors' homeland? Look forward meeting Jews from other countries (Ukraine, Russia, Germany, Israel, USA) in one place?
International Jewish camp "Halom" for the 14th time is welcoming new participants for the Camp – 2010!
You get a chance to spend wonderful week near the Black Sea, exploring family roots and finding connection with Jewish pals from all over the world.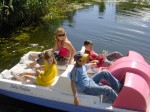 Exclusive program

Comfortable conditions

Touring Odessa
From August 18-25 on the Black Sea (Ukraine, Odessa)+ 3 days in Odessa

Families with kids and young people are invited!
Cost of the camp – $1200 per person, airfares are not included
Details by e-mail:
migdal@migdal.ru,
office@migdal.ru
by phone: +38-0482-372128