portuguese translation services
Jewish Odessa – connecting to your roots!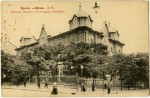 Jews were in the Odessa area long before Russians built the city. When Odessa was founded it became the first city of the Russian Empire, where Jews were allowed to settle. The Jewish influence is strong and pervades this cosmopolitan city, uniquely described in the dark tales of Isaac Babel. Until World War II, Jews played a dominant role in the city's development. Indeed, in 1939 they constituted over 30 % of the city's population. Today Odessa is home to a large Jewish community.
It is hard to overestimate the contribution of Odessa Jews to the world Jewish history. Walking through the streets of any Israeli city you will find that many of them are named after famous Zionists, Jewish writers, historians or political activists, who come from Odessa. From landmark synagogues to residences that once belonged to the rich traders and bankers to houses populated by common folk: tailors, porters, carriage drivers.
In the course of the tour you will see the grey gothic Brodsky Synagogue as well as Main Synagogue and Chabad Lubavitch Synagogue, learn about the events of 1905 pogrom, visit the Holocaust Monument in the city park, and see active live in Jewish community center. You'll explore musical and literary Odessa, created to a great extent by Jewish community: you'll walk by famous Stolyarsky School, see monument to Isaac Babel, who glorified Odessa in his stories, the house where David Oistrakh, world famous violin player, used to live before moving out of the area.
Visit to Odessa Jewish Museum will illustrate and brighten Jewish Odessa for you.
Optional: organization the Jewish music and dancing master-classes
[booking type=13 form_type='standard' nummonths=1]