korean translation service
MILA DOLGIN LIEBER – President, Co-Founder, New York, USA
Mila was one of the co-founders of the first original structure of Migdal, Migdal Or (Tower of Light) Theater, the first Jewish theater created after it was permitted after the fall of the former Soviet Union. She is an accomplished classically trained pianist who graduated from Odessa's State Music College with honors in music history, theory and harmony and studied composition and improvisation under professor Uspensky at Odessa's State Conservatory, one of the most prestigious institutions of the former Soviet Union.
Along with the development of artistic stage concepts, singing, recording and arranging music for Migdal Or, Mila wrote her original music, which was performed by the theater worldwide. After her family immigrated to the USA, Mila continued her education at Stern College (Yeshiva University, New York) and graduated with honors from Hofstra University Zarb School of Business, where she received her MBA in Marketing and International  Business. She also studied at Erasmus University School of Business Management, the Netherlands while completing her MBA. She is Recipient of an Award of Excellence from Yeshiva University, Recipient of a  Biller/JFEW Graduate Scholarship from UJA Federation, Recipient of The  Netherland-America Foundation  Scholarship, Member of M.B.A. Association, Hofstra University and Graduate American Marketing Association. She has more than 15 years of work experience in business and her life's credo is pursuit of truth and meaning in life.  Her life principles stem from Jewish laws and values, with its core beliefs in chesed (kindness) and tzeddakah (charity) of giving to those in need.  She teaches these values to her two children Abraham Solomon and Shira Neshama.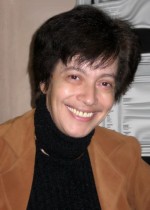 KIRA VERKHOVSKAYA – Vice President, Co-Founder, Odessa, Ukraine
Kira was original founder of Migdal Or Jewish Music Theater in Odessa Ukraine, where she and Mila  Dolgin Lieber first worked together. She is an educated musician and an entrepreneur with many years of   knowledge and expertise in Jewish culture, Judaic studies and Hebrew language. She studied at Hebrew University in London and graduated from Buncher Jewish Leadership program in 1994.
Kira is a true leader and has been completely devoted to the Jewish community of Odessa, Ukraine for the past 18 years.  Her passion and energy was a driving force to overcome all difficulties associated with the socio-economic change while Ukraine became an independent country and to continue her work under extremely difficult and sometimes impossible conditions. She is a true entrepreneur and has developed most of the programs that are currently fully functioning in Odessa, Ukraine. This includes Beiteinu Center of Jewish Children and Families at Risk, Mazl Tov Earlty Childhood Development Center, Shorashim Jewish Museum, Migdal Or Jewish Music Theater and all other programs and services.  Kira has been recognized by multiple audiences worldwide while performing with Migdal Or. She received support and recognition from major Jewish organizations including Joint Distribution Committee, Rothschild Foundation, and many others.  Her credo in life is "Never stop moving forward".
MARINA NAHUM (SAPRITSKY) – Director of Development, Co-Founder, London, UK
Marina was born in Moscow, Russia where she lived until the age of 11.  Following her parent's decision to take a job opportunity abroad, Marina and her family moved to the United States shortly before the collapse of the Soviet Union.  Marina has received her undergraduate degree from Boston University, where she majored in international relations.
After her graduation, Marina worked with major non profit organizations, including  American Red Cross, UNICEF and  CMMB.  She also relocated to London to continue her education, where she received her Masters degree from the London School of Economics and is currently finishing her PhD in Anthropology.  Marina came to Odessa to do research for her dissertation in 2005 and has spent several years living and traveling in Ukraine. Marina contributed greatly to the Jewish Community of Odessa while living there and also after she went back to London. She has been involved in many projects implemented by Migdal International Center for Jewish Community Programs in Odessa and has been chosen to become Director of Development for Migdal International Society, Inc. in New York.